Barry Brown - Master Instructor
'Kwan Jang Nim'
Barry Brown began his training in the Japanese Shotokan style in December of 1966 under Master Teruyuki Okazaki in Philadelphia, Pennsylvania, where the belt colors were white, green, brown, and black.
In mid-1967 Barry moved to the Washington, D.C. area and brought along a letter of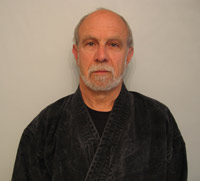 introduction from Master Okazaki to Master Ki Whang Kim, a Tang Soo Do stylist. After reading the letter, Mr. Kim accepted Barry into his school and replaced his white belt (8th kyu) with a gold belt (8th gup) to match the rank Barry had attained in Philadelphia.
At the Kim studio Barry often attended classes taught by Master Soo Wong Lee. After several months, Master Lee left to open his own school in northern Virginia where Barry followed Master Lee. While training at the Lee school, Barry often saw Master James K. Roberts stop by to chat with Mr. Lee and consequently learned that they both taught the same style.
When the Lee school closed in mid-1972, Barry joined the Roberts school where his grade of 1st brown was accepted without question. Barry trained hard at the Roberts school and by the end of 1972 was awarded his 1st Dan. Continued hard training earned him his 2nd Dan in 1974.
At that point in time, there were very few students at 3rd Dan or above in the karate community. Things began to change in the 1980s. In 1981, Master Roberts decided to test his four senior 2nd Dans. The four students worked hard to prepare for this exam, and in 1981 Barry received his 3rd Dan along with the other three students.
After achieving this rank, Barry became a regular instructor at the Roberts school. He competed in tournaments and won a number of trophies; most were for sparring, but some were for forms. The highlight of his competitive years was winning the Grand Championship at Master Ron Jenkins first tournament in 1985. Barry stopped competing in tournaments in the late 1980s and began to specialize in forms. Many sought him out for guidance due to his expertise in that area.
In 1988 he earned his 5th Dan, achieving Master level. Barry continued to earn promotions at the Roberts school until 2004 when he was awarded his 8th Dan from Master Roberts. At the time, Master Roberts was a 9th Dan, retired and living in Hawaii, but occasionally returning to Virginia to test his former students. Barry had been the highest ranked student at the Roberts school for many years. Through this promotion, Barry reached the highest rank ever awarded by Master Roberts to any of his students, and was the only Roberts student ever to achieve this rank.
After the Roberts school closed its doors at the end of 2005, Barry began to train at another school in northern Virginia. After a short time, he decided he preferred to teach the martial arts traditions he had learned and practiced during his many years of karate. Thus was born Browns Karate.
Andrew Herndon - Instructor
'Sa Bom Nim'
Andrew Herndon began his training in Tang Soo Do in January of 1990, and through arduous training he worked his way up to a fifth dan. He began teaching the art in 1996 and soon proved that he has a great knack for instructing Tang Soo Do. He first taught at the former Roberts School of Karate, and he became a regular Instructor at Brown's Karate when our school first opened. Andrew is very much a people person, and his ten years of teaching provide him with many skills that enrich the learning experience for all our students.
Carl Thomas - Instructor
'Sa Bom Nim'
Carl Thomas began his martial arts training in 1983 as a student of the Art Den Jitsu System in St. Croix, U.S. Virgin Islands. While serving in the United States Navy from 1986 to 1994, Carl was not able to actively continue formal martial arts training, but he was never far away from it because he continued practicing on his own. After his Navy service he resumed martial arts training in the Virgina Beach area. When he moved to northern Virginia in 1998, Carl joined the Roberts School of Karate where he continued his training. He earned his first and second degree black belts there before that school closed. Carl joined Brown's Karate as an Instructor and earned his third dan with us in May 2006 and his fourth dan on April 2, 2011. Carl's martial arts skills make him a winning competitor at tournaments and a very effective teacher.